The popularity of employing a home cleaner in Brisbane rises.
Brisbane homes are sparkling due to the increasing trend to employ the services of a professional home cleaner in Brisbane. The rise in popularity is multi-faceted but driven largely by Brisbane residents loving their relaxation time and their desire to get outside and enjoy the beautiful Brisbane weather. As they say about Queensland, "beautiful one day, perfect the next!" Therefore it makes perfect sense that Brisbane householders want to spend less time cleaning and more time actually enjoying the Brisbane climate.
There are lots of things that you could be doing around Brisbane such as the ideas on the Visit Brisbane page
The initial decision to employ a professional housecleaner sometimes means householders need to overcome a couple of barriers in their own mind. Typical questions might revolve around the investment involved, trust issues or even a feeling of guilt at not cleaning their own house. However, what becomes apparent is most people (not just Brisbane residents) make the decision to employ a professional house cleaner in order to solve some sort of problem or improve the work/life balance in their home.
Take for example a new baby arriving into your home: A new baby creates a whole new set of responsibilities and new parents quickly learn that their time is never their own again. Historically, the extended family was able to help ease the burden by helping with household chores. However, with so many families in Brisbane living away from their childhood home or extended family members working, this help is less accessible. In such a situation it makes perfect sense to hire the services of a professional house cleaner to relieve the pressure you may be feeling. Possibly you might decide to get them to do all the big jobs you put off and dislike doing yourself; floors, bathrooms, windows or oven. Or you may even like them to do an overall tidy, do the washing and spruce up the exterior of your home. The assistance from a professional house cleaner can really make your life easier and your house sparkle – especially when there is a new baby in the home.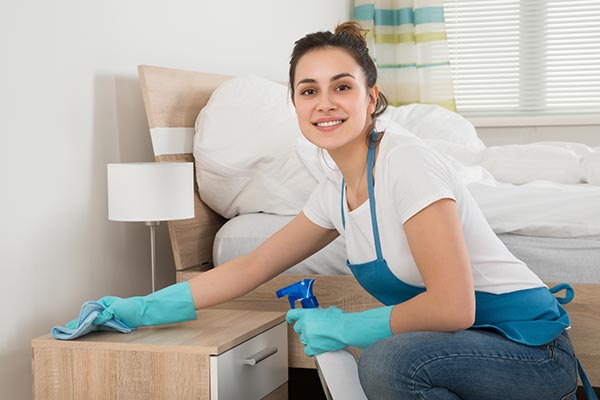 There a lot of reasons Brisbane households employ a professional cleaner including for extra help if incapacitated or overcoming an illness, to improve mental health, for hygiene, moving house or most typically to overcome a time challenge. Whatever your reason, the satisfaction and peace of mind you get from seeing your home professionally cleaned is definitely worth it and the knowledge that your cleaner will be back again soon relieves a lot of stress.
Surprisingly, the financial investment of employing a home cleaner in Brisbane may not be as big as initially thought. Professional cleaners take a lot of pride in their work and clean very efficiently. They can get quite a lot done in a short space of time without all the household distractions getting in the way. When considering employing a cleaner for your home, it is also useful to weigh up where your time should be spent – maybe your time is better spent with your family or in other more lucrative endeavours. Once again it all comes down to work/life balance.
One factor you do need to consider is trust. Having a complete stranger come into your home takes a leap of faith. Ideally, a referral is a great way to find a cleaner but if you don't know anyone, using a professional cleaning service is a great way to go. Their cleaners will have had a criminal history check done and are usually very reliable. Often you will be able to use the same cleaner or team of cleaners so you will quickly get used to each other and the way you like things done as well as build up trust. With a professional cleaning company, you also have the benefit that in the event your regular cleaner is unavailable, someone else from the team will be able to step in and ensure you don't miss out on your regular clean.
Not surprisingly, Brisbane residents find they attract a lot of interstate visitors, so sometimes getting a spring clean of your home before the visitors arrive is all that is needed. A professional cleaning team is the perfect solution to get this done quickly and saves you the hassle of doing it yourself. Although you may not necessarily want a regular cleaner, it is wonderful to know that you can get a team of professional cleaners in for a special project or an event. Professional cleaners tend to be very flexible and only too happy to accommodate your cleaning requests so there is no need to go into a panic when you hear the relatives are arriving. Just call in the professionals instead.
Whatever your reason, once you have made the leap of faith to employ a professional house cleaner for your home, you will never look back and will be wondering why you didn't do it sooner. All you need to worry about is picking up the phone or emailing for a quote and the professionals will take care of the rest! Your home will be sparkling leaving you time to enjoy the finer things in life.
If you are interested in getting a quote to clean your home, please visit or home cleaning price page and get a quote