Ajax Cleaning provides the best house cleaning services in Brisbane tailored to your needs. 
We take the time to ensure our team fully understand your house cleaning requirements addressing: areas of focus, your budget, your preferred timings and factors important to your lifestyle including: allergies, pets, housing factors, and other specific requirements important to you when thinking about getting your home cleaned by a professional.
Only then will we allocate a match a house cleaner suited to your requirements. In the case of regular services, we allocate the same cleaner on an ongoing basis so that the client and cleaner can build an ongoing and trusted relationship.
Ajax Cleaning has approved house service arrangements with clients receiving:
NDIS House cleaning and other Household Activities Funding
Department of Veteran Affairs Household Services Funding
Our Range of House Cleaning Services:
Regular Home Cleaning Service
Our team of friendly, reliable and trustworthy home cleaners will make sure to leave your home looking fresh, tidy and at its sparkling best.
We know that it's the little things that count and that your needs are unique. That's why we can provide additional extras like: cleaning fridges, bedmaking and laundry – just tell us what you want and we'll build it into your service.
Book an ongoing regular home clean suited to your lifestyle and never have to worry about household chores again!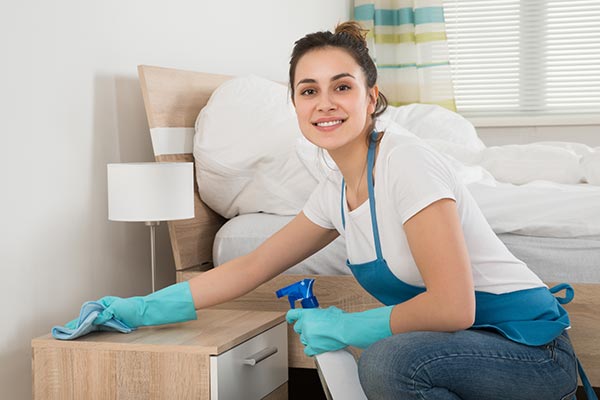 SERVICE INCLUSIONS
✓ Chemicals & Equipment supply
✓ Public Liability Insurance
✓ Same Cleaner for all services
✓ 200% Satisfaction Guarantee
✓ Emergency Cleaner in case of sickness or holidays
✓ 6-day week support service
✓ Member Benefits / Discounts
✓ Certified Police Checked Cleaner
KITCHEN
✓ Clean & sanitise bench tops, cupboard door handles & fronts
✓ Clean Stove top & Oven front door
✓ Wipe over Rangehood
✓ Clean Microwave inside & out
✓ Clean Splashback
✓ Wipe Dishwasher & Freezer fronts
✓ Clean Sink & Tap
✓ Wipe Stools
ALL AREAS
✓ Empty Rubbish Bins
✓ Wipe / dust all reachable surfaces
✓ Wipe Lights switches & Door handles
✓ Vacuum Carpets & Rugs
✓ Exterior Cabinets surface wipe
✓ Clean Mirrors
✓ Sweep/Mop Floor
✓ Clean back of Front Door and Stairs framing
BEDROOMS
✓ Dust Furniture & Blinds
✓ Tidying Beds
✓ Clean marks on Doors
UPON REQUEST: Bed making
DINING & LOUNGE
✓ Wipe Dining Table & Chairs
✓ Dust off Couch & neaten cushions
BATHROOM & TOILETS
✓ Scrub & Clean Showers
✓ Scrub & Clean Baths
✓ Scrub & Clean Basins / Sink
✓ Clean & Sanitise Toilets
✓ Clean Mirrors & glass fixtures
✓ Wipe / polish tapware
✓ Fold & Straighten Towels
✓ Clean Toilet Roll Holder
LAUNDRY
✓ Clean Sink & Tapware
✓ Wipe down cabinet front
✓ Wipe down benchtop & shelving
UPON REQUEST: Washing & Drying
INTERNAL WINDOWS: On rotation, or only if time available within service time agreed
WALLS & SKIRTING BOARDS: On rotation or only if time available within service time agreed
BLINDS: On rotation or only if time available within the service time agreed
PATIO/EXTERIOR: On rotation or only if time available within service time agreed
Book now and pay on the day
Occasional or Spring Clean
Things getting away from you on a weekly basis, and just want to bring things back to scratch? We'll deliver a professional service designed to take away the hard work, and give you back the time to maintain your lifestyle. Alternately maybe you just want to focus on a few areas- contact us and we'll customise a service for YOU.
Bond Cleans
We ensure we leave no stone unturned, so that you are best positioned to return the property to the same entry condition. 200% satisfaction guarantee. Don't risk the swift and full return of your bond.
Homeowners Presale, or Moving Clean
Our Presale cleaning service is designed to prepare your property to maximise its sale proceeds, and save you the high cost of renovating to broaden buyer appeal.
Wanting to take away some of the stress from vacating your property at sale time? We deliver a solution that takes away the hard work customised to your requirements and budget.
Window Cleaning, Exterior Cleaning – Other Services
Window Cleaning
Our service offerings include:
Windows- Interior and External windows including tracks and screens
Single and 2 Storey House, Apartment and Townhouse exterior window cleaning
Availability to provide works completed by teams certified for working safely at heights on multi storey properties and high-rise buildings
Other Services Available
Oven Cleaning
Laundry
Fridge Cleaning
Bedding & Linen
Blinds washing
Mould Treatment
Exterior Cleaning
Wanting to boost your property sale prospects, stop outside dust and dirt from entering your home, or just want a general tidy up before a big event? Ajax Cleaning deliver a convenient, affordable and hassle-free exterior cleaning service.
Our team of licensed professionals can provide a complete range of services including:
Eaves/roof cleaning
Driveways, patios, and pool surrounds cleaning
House washing
Other Domestic services
Save time, by utilising the convenience of a company with the capability to deliver you a one stop solution for all your interior and exterior cleaning needs using specialists in their chosen professions.