Application
Workplaces that want their empoyees to return to work but need to make sure that their environment poses little risk of infection and that precautions have been taken to safeguard their health would benefit from a COVID-19 preventative deep clean.
Also if you would like to make sure that your family is safe at home and that your house poses little risk of infection and that precautions have been taken to safeguard your families health you should consider a COVID-19 preventative deep clean.
In this situation, Precautionary Sanitations are relevant to workplaces or homes with no suspected existing cases of COVID-19 in low to medium risk environments.
Objective
This level of COVID-19 cleaning is designed to mitigate risk through preventing potential spread of the virus.
This will be supported by ongoing regular cleaning and disinfecting to maintain safety.
Why the need for a combination of services?
Cleaning and disinfecting surfaces is an important way to prevent the spread of coronavirus. When planning a preventative service, we address two key issues:
Which surfaces have a higher risk of being contaminated by coronavirus, and
Which surfaces have a higher risk of spreading coronavirus to other people.
Surfaces that are frequently touched by multiple hands are called Frequently Touch points (FTPs). The most critical FTPs to clean and disinfect, are those at most risk of being contaminated from the hands that touch them, such as in public areas and washrooms, or at risk of contaminating food, such as in kitchens.
Goals of Cleaning and Disinfection
Remove the organic matter that germs live in on the surface; and
Remove germs at the same time.
Disinfect FTPs frequently and correctly after cleaning; so as to ensure that any viruses remaining on the surface are killed.
THE COVID PREVENTATIVE DEEP CLEAN (CPDC) has been developed as A Low Frequency HIGH IMPACT service designed to kill Viruses. Ongoing hygiene and safety maintenance can be carried out by a regular cleaning service which requires less cleaning time and overall cost than the CPDC.
This program has been developed following Australian Government Guidelines.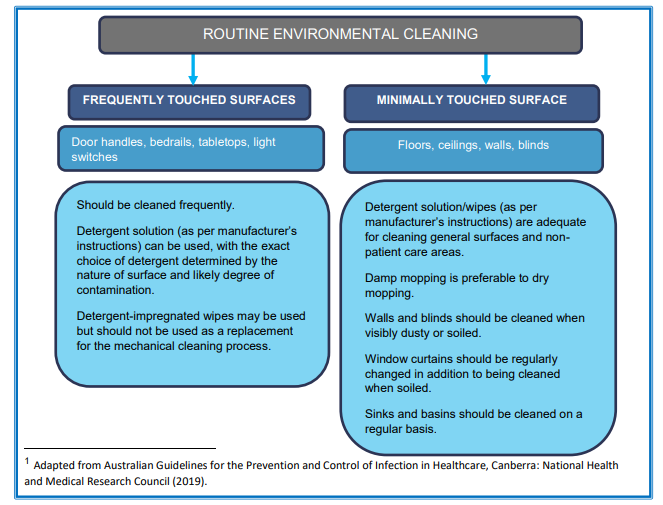 Ajax Service Elements – COVID Preventative Deep Clean (CPDC)
1.Products
Disinfectants containing ≥ 70% alcohol, quaternary ammonium compounds (QAC), chlorine or oxygen bleach that kill 99.99% of germs and claim antiviral i.e. virus killing properties will be included in the cleaning routine on every surface detailed in our guidelines
2. PPE and Equipment
Standard inclusions with an Ajax Regular Clean:
Use off disposable impermeable cleaning gloves.
Clean clothes and cleaning equipment used with every clean.
Cleaners use alcohol-based hand sanitisers before and after wearing gloves
Additional Measures introduced in the COVID PREVENTATIVE DEEP CLEAN
Use by cleaners of surgical masks and eye protection.
Use of spray equipment where required.
If there are visible contamination cleaners will wear full length disposable gowns.
After cleaning single use PPE items are placed in a separate bag and disposed of.
Cleaners involved in this program undertake daily temperature checking to confirm they are normal and available for work
3. Training and Systems
Ajax Cleaners providing this specialised service are experienced cleaners, have completed training in the effective use of the correct products and PPE equipment to use, and in safe chemical selection and handling and work practises, including safework Australia guidelines.
Our systems provide guidelines, safety checks, priorities and areas of most focus in order to minimise the risk of Covid infection in work or home situations.
4. Cleaning Program
The Ajax COVID PREVENTATIVE DEEP CLEAN (CPDC) focuses on disinfecting every surface within a designated area and is customised to home or office situations.
The Regular Cleaning service inclusions focus on cleaning and disinfection on frequent touchpoints and common areas, as part of an ongoing risk prevention and hygiene maintenance program. Customised programs can be arranged to add additional surfaces for the regular clean.
HOME CLEAN COVID PREVENTION DEEP CLEAN GUIDELINES
| | | | | | |
| --- | --- | --- | --- | --- | --- |
| AREA | Frequent Touch points (FTP) | CPDC INCLUSION | CPDC DETAIL | REGULAR STD. CLEAN INCLUSIONS | REGULAR STD. CLEAN INCLUSIONS |
| Door knobs/ Door handles / handrails | Yes | ✓ | Clean & Disinfect | ✓ | Standard with every service |
| Light/electrical switches | Yes | ✓ | Clean & Disinfect | ✓ | Standard with every service |
| Computers/ accessories / printers/ telephone equipment / remotes | Yes | ✓ | Clean & Disinfect | ✗ | Not standard with every service unless specified |
| Dining/ Coffee tables/ desk tops | Yes | ✓ | Clean & Disinfect | ✗ | Not standard with every service unless specified |
| Chairbacks/ arm rests | Yes | ✓ | Disinfect | ✗ | Not standard with every service unless specified |
| Bedheads / Filing cabinet fronts | Yes | ✓ | Disinfect | ✗ | Not standard with every service unless specified |
| Bathrooms: Sinks/ Tapware / Basins / Showers / Baths/Vanities / | Yes | ✓ | Clean & Disinfect | ✓ | Standard with every service |
| Toilets – Toilet seats/ cisterns, flushes/ Toilet roll holders | Yes | ✓ | Clean & Disinfect | ✓ | Standard with every service |
| Kitchen & Laundry / Sinks/ Tapware | Yes | ✓ | Clean & Disinfect | ✓ | Standard with every service |
| Kitchen surfaces/ appliance exteriors & handles / kitchen amenities | Yes | ✓ | Clean & Disinfect | ✓ | Standard with every service |
| Walls / Skirting Boards | No | ✓ | Disinfect | ✗ | Not standard with every service unless specified |
| FLOORS- Hard surfaces | No | ✓ | Clean & Disinfect | ✗ | Clean Only with every standard service |
| FLOORS- Carpet | No | ✓ | Clean & Disinfect | ✗ | Clean Only with every standard service |
| Rubbish Bins | No | ✓ | Empty, Clean & Disinfect | ✓ | Standard with every service |
| Blinds / windows/ tracks | No | ✓ | Clean & Disinfect items requested | ✗ | Clean only: Not standard with every service unless specified |
| Gym Equipment | Yes | ✓ | Clean & Disinfect | ✗ | Not standard with every service unless specified |
WORK PLACE COVID PREVENTION DEEP CLEAN GUIDELINES
| | | | | | |
| --- | --- | --- | --- | --- | --- |
| AREA | Frequent Touch points (FTP) | CPDC INCLUSION | CPDC DETAIL | REGULAR STD. CLEAN INCLUSIONS | REGULAR CLEAN INCLUSIONS |
| Desktop/ work benches / meeting room tables | Yes | ✓ | Clean & Disinfect | ✓ | Standard with every service |
| Door knobs/ Door handles / Hand rails | Yes | ✓ | Clean & Disinfect | ✓ | Standard with every service |
| Light/electrical switches | Yes | ✓ | Clean & Disinfect | ✓ | Standard with every service |
| Toilets – Toilet seats/ cisterns, flushes/ Toilet roll holders | Yes | ✓ | Clean & Disinfect | ✓ | Standard with every service |
| Bathroom Sinks/ Tapware / Basins / Showers | | ✓ | Clean & Disinfect | ✓ | Standard with every service |
| Toilet cubicles & walls | Yes | ✓ | Clean & Disinfect | ✗ | Not standard with every service unless specified |
| Office equipment- printers/ photocopiers / whiteboards | Yes | ✓ | Disinfect | ✗ | Not standard with every service unless specified |
| Computer equipment & accessories/ Telephone Equipment / remotes | Yes | ✓ | Disinfect | ✗ | Not standard with every service unless specified |
| Filing Cabinets & Cupboards exteriors | Yes | ✓ | Clean & Disinfect | ✗ | Not standard with every service unless specified |
| Chairbacks/ arm rests | Yes | ✓ | Disinfect | ✗ | Not standard with every service unless specified |
| Chair/ table legs | No | ✓ | Disinfect | ✗ | Not standard with every service unless specified |
| Kitchen surfaces/ appliance exteriors & handles/kitchen amenities | Yes | ✓ | Clean & Disinfect | ✓ | Standard with every service |
| Kitchen Sinks & Taps | Yes | ✓ | Clean & Disinfect | ✓ | Standard with every service |
| Water fountains/ dispensing machines / lift buttons | Yes | ✓ | Clean & Disinfect | ✗ | Not standard with every service unless specified |
| Walls / Skirting Boards | No | ✓ | Disinfect | ✗ | Not standard with every service unless specified |
| FLOORS- Hard surfaces | No | ✓ | Clean & Disinfect | ✗ | Clean Only with every standard service |
| FLOORS- Carpet | No | ✓ | Clean & Disinfect | ✗ | Clean Only with every standard service |
| Rubbish Bins | No | ✓ | Empty, Clean & Disinfect | ✓ | Standard with every service |
| Blinds / windows/ tracks | No | ✓ | Clean & Disinfect Items requested | ✗ | Clean only: Not standard with every service unless specified |